EcoMapper creates sonar based map of lakebed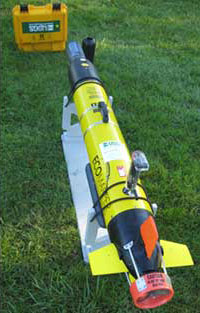 As part of the on-going efforts to complete the final design of the lake restoration project for Wonder Lake, the Wonder Lake MPOA has contracted with the U.S. Geological Survey to conduct an "EcoMapper" survey of the lake. 
This self-propelled, self-navigating device traverses the lake, using side-scanning sonar to map the lakebed, while also collecting real-time water quality data.   This work was conducted the week of August 9th, 2010.
It was hoped that a second EcoMapper Survey would be conducted upon completion of the dredging project to map the increased water depths, as well as the improved water quality conditions, resulting from the lake restoration project. However, this would require the MPOA to contribute a significant amount of cost-share funding to have USGS conduct this study, which is beyond the current MPOA budget capabilities at this time.
https://www.ysi.com/ecomapper

The USGS EcoMapper on Wonder Lake (photo by Bob Arnold)
Woodstock Independent "EcoMapper" Article - 8/25/10
Reprinted with permission  Download PDF