MPOA Fishing Regulations
Wonder Lake, and the Nippersink Creek stream channel downstream (east) of the Thompson Road Bridge, are owned by the Wonder Lake Master Property Owners Association (MPOA). Fishing is only allowed in these areas for those landowners holding deeded lake rights to Wonder Lake, or their guests, who must be accompanied by someone holding deeded lake rights. Fishing in these areas is governed by the Illinois Department of Natural Resources (IDNR), as summarized below, with IDNR fishing licenses required for anyone 16 years of age or older. Fishing Licenses are NOT available for purchase at the MPOA office.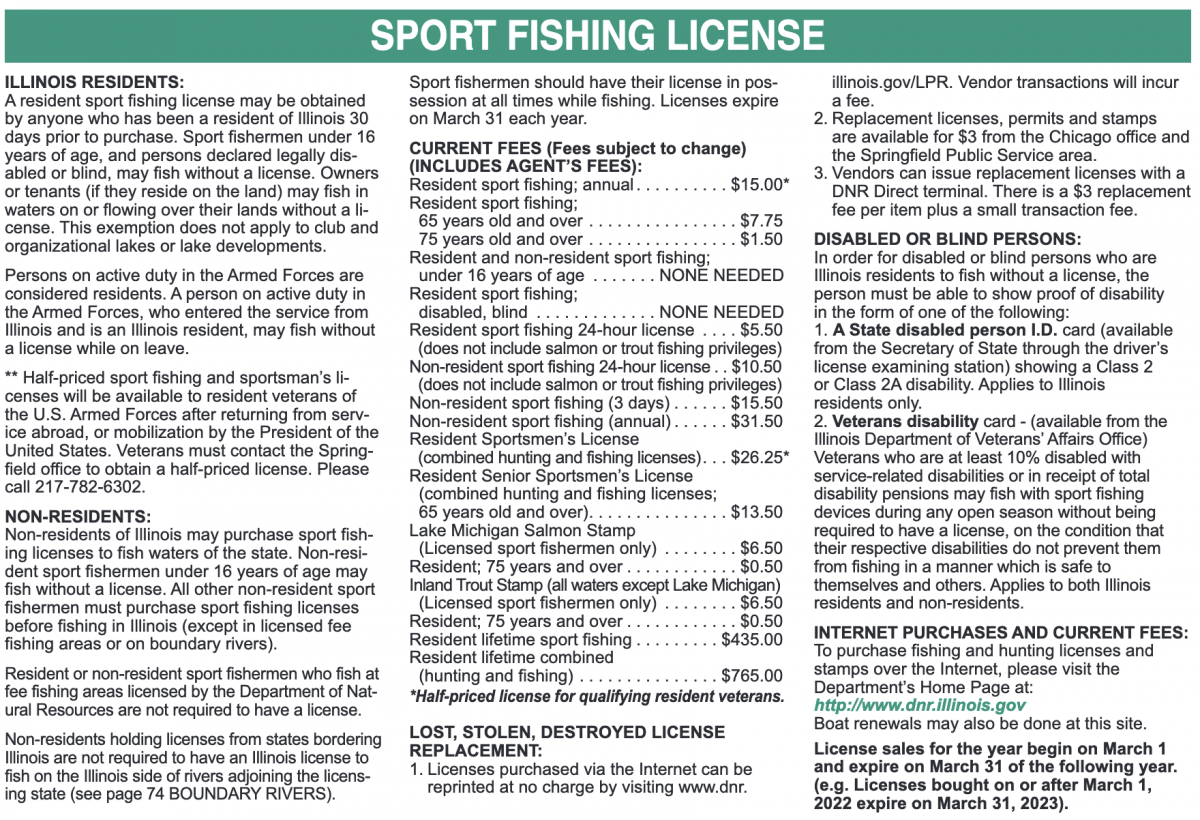 Source: https://www.ifishillinois.org/regulations/FishingDigest.pdf
The Nippersink Creek stream channel immediately downstream of the Wonder Lake Dam, as well as the Wonder Lake Dam embankment, are also owned by the MPOA, and are posted "No Trespassing". Anyone found in the dam area / creek will be subject to arrest by the Wonder Lake Police Department. The Wonder Lake Sportsman's Club takes an active role in managing the Wonder Lake fishery, and regularly updates its recommendations on limits for Wonder Lake / Nippersink Creek.
Fish Limits for Wonder Lake - 2023
Walleye Pike - Catch-and-release only.
Northern Pike - Catch-and-release only.
Musky – Catch-and-release only.
Bass - Largemouth, Spotted, Black and Smallmouth : (6) fish in aggregate per day, with no more than (2) Smallmouth Bass. 12" minimum size limit.
Panfish - White/Black Crappie, Yellow Perch, Bluegill / Sunfish : (20) fish in aggregate per day, with no more than 10 per day of any one species.
Catfish - Blue, Channel and Flathead: (6) fish per day of any species.
Rough Fish - Carp, Bullhead, Striped Bass : No size limit.
Remove and dispose
Catch-and-release only from Thompson Road bridge downstream (east) to Wonder Lake