Wonder Lake Fish Kill Disposal Options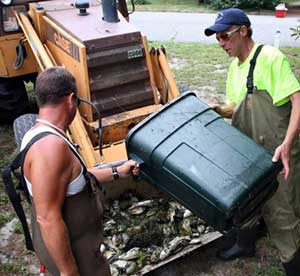 The McHenry County Department of Health has received numerous questions regarding the proper disposal of the fish carcasses from the recent fish kill in Wonder Lake.
Staff has consulted with the Illinois Environmental Protection Agency and the Illinois Department of Agriculture to identify acceptable options.  Some of the concerns associated with the disposal of the fish carcasses would be protection of groundwater, protection of surface water quality (i.e. Wonder Lake), prevention of public health nuisances including odors, attracting animals and vectors (i.e. flies.)
The following options would be compliant with existing state and local regulation and represent environmentally sound methods of disposal:
    •    For smaller numbers of fish carcasses, double bag or use a closed, covered container and dispose of the fish carcasses with your regular trash pick-up.
    •    For  fish carcasses that have washed ashore onto an individual property, fish carcasses may be buried on that same property provided the following minimum requirements are met:
    •    disposal area shall be 200 feet or more from any water well.
    •    disposal area shall be 200 feet from any surface water.
    •    disposal area shall be 200 feet from any adjacent residence.
    •    fish carcasses shall have at least 6 inches compacted soil cover over the uppermost portion of the carcass.
    •    For larger numbers of fish carcasses, the Department recommends using a dumpster from a licensed municipal waste hauler for proper disposal.  The dumpster should be lined with plastic to minimize leaking, be kept covered when not in use and removed as soon as possible. Property owners or subdivisions may want to share dumpsters for the cleanup.
Please be reminded that the open burning and/or open dumping of fish carcasses is prohibited.
For further information please contact the Illinois Environmental Protection Agency – Bureau of Water at (815) 987-7760 or contact the McHenry County Solid Waste Manager at (815) 334-4585 KLHecke@co.mchenry.il.us