Lake Manager's Report - July 2021
1. Northern McHenry County is still the ONLY location in the entire eastern United States that is under extreme drought. According to data released by the National Weather Service, the month of June 2021 was the fourth-hottest June ever recorded in Chicago's history. Based on long-term climate averages, from April 1st to today, the amount of expected rainfall at Wonder Lake would be 13.7 inches. Instead, for this same period, the USGS rain gage at Thompson Road only recorded about 6.1 inches. This lack of rainfall has resulted in the stream flow coming into Wonder Lake from Nippersink Creek dropping from an average of around 40 cubic feet per second (CFS), to less than 18 CFS. Simply stated, getting less than half the normal rainfall has cut the Nippersink Creek flow into the lake to less than half of normal.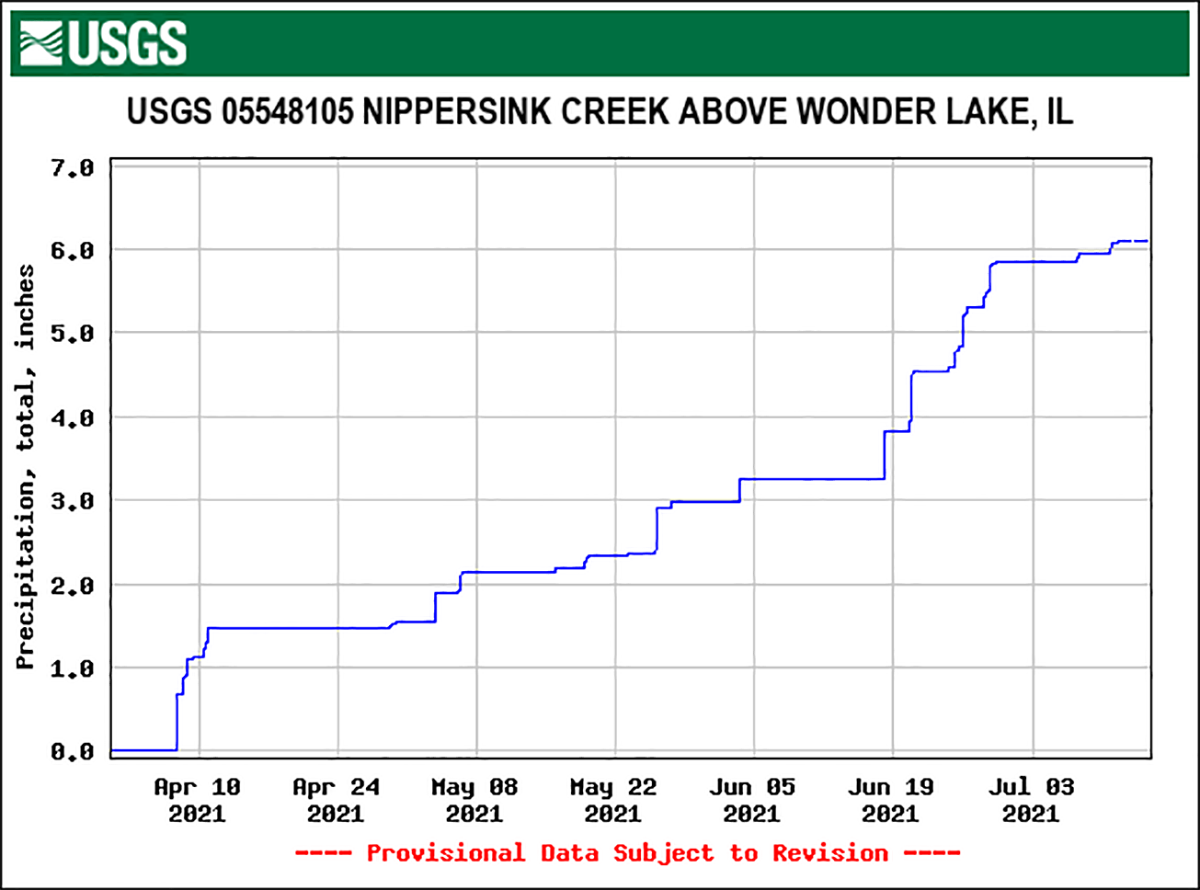 2. As discussed last month, in-lake nutrients, the lack of rainfall, and hot temperatures are the main triggers for significant algae blooms to occur, as they currently are all across northern Illinois. In these conditions, there is also the potential for an out-break of Harmful Algae Blooms (HABs). A HAB algal bloom can be green, blue, red or brown, and can be scummy or look like paint on the surface of the water. Representative photos of HABs can be found here: https://www.dec.ny.gov/chemical/81962.html
3. If lake users note anything suspicious, they need to contact the MPOA @ lakemanager@gmail.com More importantly, if an algae bloom is occurring, lake users should minimize / avoid any water contact in that vicinity, and be sure to keep your dogs out as well, as they are very susceptible to adverse impacts from the algae.
4. It should be noted that the actual presence or type of Harmful Algae species, or whether they are present at a harmful level, cannot be determined by visual observation; it can only be accomplished by sampling and lab testing conducted by the Illinois Environmental Protection Agency (IEPA). Unfortunately, the McHenry County Health Department, which conducts the swimming beach sampling, does not have HAB capabilities. Once samples are collected, it can still take up to 7 to 10 days at the IEPA lab for results to be obtained. Due to the number of lakes experiencing algae blooms, the earliest that IEPA can come out to Wonder Lake to collect samples is the middle of next week, which has been scheduled.
5. It should also be noted that any MPOA decision on whether the lake needs to be closed due to a potential Harmful Algae Bloom would only be done at the recommendation of the IEPA, as was done the last time there was a HAB outbreak across Northern Illinois in the summer of 2012.
6. Finally, there is no "cure" for an algae bloom, particularly on a lake as big as Wonder Lake. The only return to normal is for rainfall to occur, and temperatures to cool off. As mentioned last month, the dredging of Wonder Lake removed many tons of nutrients from the lakebed, which would have otherwise been available to fuel algae growth. Lakefront landowners are, as always, strongly encouraged to keep lawn fertilizers, leaves and grass clippings out of the lake.
State officials confirm algal bloom on portion of Illinois River
The Illinois Environmental Protection Agency collected samples on June 10 along the northern bank of the Illinois River at the Starved Rock Lock and Dam.
Updated: Jun. 17, 2021 at 4:16 PM CDT SPRINGFIELD, Ill. (WIFR) - Following sampling on the Illinois River, Illinois officials have confirmed the presence of the algal toxin, microcystin, above the 8 parts per billion health advisory established by U.S. Environmental Protection Agency.
The Illinois EPA's laboratory confirmed the microcystin level in the sample at 95.4 ppb, above the health advisory limit. Illinois EPA proactively sampled again on June 16 for microcystin and awaits the results of the resampling event.
Algal toxins — like microcystin and cylindrospermopsin — sometimes produced by blue-green algae, can cause sickness or other adverse health effects in people and pets, depending on the amount and type of exposure. Illinois EPA also tested for cylindrospermopsin, anatoxin, and saxitoxin but did not detect their presence near any level of concern.
The very young, elderly and people with compromised immune systems are most at risk of illness if exposed to algal toxins. Adverse health effects attributable to algal toxins can occur from direct skin contact, swallowing contaminated water, or inhaling water droplets in the air. Symptoms of exposure include rashes, hives, diarrhea, vomiting, coughing or wheezing. More severe symptoms may result from longer or greater amounts of exposure.
If you are concerned you have symptoms that are a result of exposure to algal toxins, contact your health care provider or call the Illinois Poison Center at 1-800-222-1222. If your pet experiences symptoms that may be a result of exposure, contact your veterinarian immediately. Residents who plan to recreate in, on, or near Illinois rivers, lakes or streams are advised by the state to avoid contact with water that:
• looks like spilled, green or blue-green paint
• has surface scums, mats, or films
• is discolored or has green-colored streaks
• has greenish globs suspended in the water below the surface
Do not let pets drink from or swim in water with any of the previous characteristics.
If you or your pet have come into contact with water you suspect may have a bloom of blue-green algae, rinse off with clean, fresh water as soon as possible. Do not let pets lick scum from their fur.  With all activities that may involve contact with lake or stream water, wash your hands before eating.