Lake Manager's Report – October 2022
1. The annual inspection of the Wonder Lake Dam and Sediment Drying Facility required by the State of Illinois is scheduled for Friday, October 14th, 2022.
2. As always, with autumn approaching, Wonder Lake landowners with lakefront or streamfront properties are strongly encouraged to NOT rake their leaves into the water, as this can create a significant nutrient load, fueling future algae blooms. Please consider composting raked leaves or utilizing available landscape waste disposal services.
3. The Wonder Lake area received some much-needed rainfall today, along with a forecast of cooler weather. Both factors will help diminish the algae blooms that were experienced in late summer. The charts below present data from the USGS stream gage on Nippersink Creek at Thompson Road. tinyurl.com/33fabzht Until today, only one inch of rain had fallen in the last month. As a result, the amount of flow (discharge exhibit below right) entering Wonder Lake from Nippersink Creek has been below the 16-year seasonal average (shown as triangles) since the middle of September.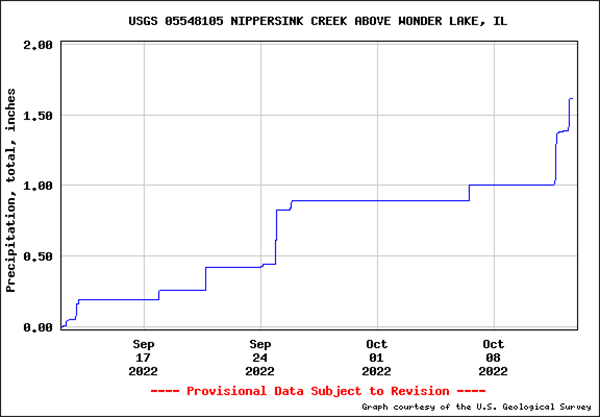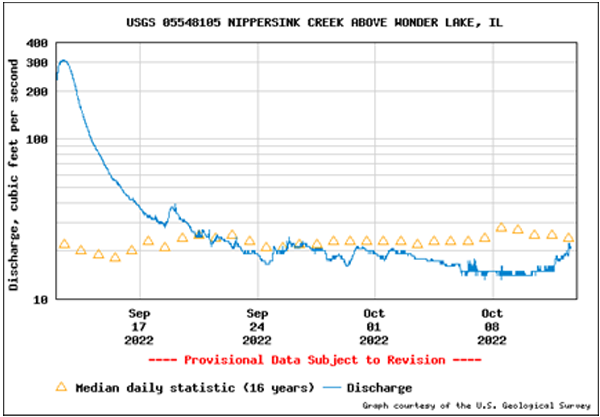 4. The MPOA continues to pursue leads to find a soils vendor interested in the dried sediment at the MPOA Sediment Drying Facility.